The Best Loved Poems of Jacqueline Kennedy Onassis
Unabridged Audiobook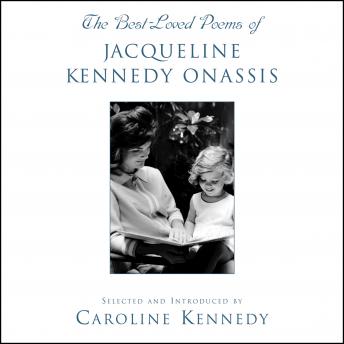 Duration:
2 hours 39 minutes
Summary:
Jacqueline Kennedy Onassis loved literature, especially poetry. 'Once you can express yourself,' she wrote, 'you can tell the world what you want from it...All the changes in the world, for good or evil, were first brought about by words'. Now, Caroline Kennedy shares her mother's favorite poems and the inspiration behind her strong belief in the power of literature.
The poems presented span centuries and include works by such renowned authors as Langston Hughes, William Shakespeare, Homer, W.B. Yeats, Emily Dickinson, E.E. Cummings, and Robert Frost. This volume also includes poems by Jacqueline Kennedy. Illustrated with photographs of the Kennedy family, and illuminated by Caroline's reflections on her mother's life and work. A wonderful volume for reading aloud or by yourself, a meaningful gift or keepsake, this book offers an intimate view of Jacqueline Kennedy Onassis' world, and a poignant glimpse into her heart.
This audiobook includes a special reading by Senator Edward M. Kennedy and Robert Frost reading 'The Gift Outright' at the inauguration of President John F. Kennedy, January 20, 1961.
Genres: