Big Egos: A Novel
Unabridged Audiobook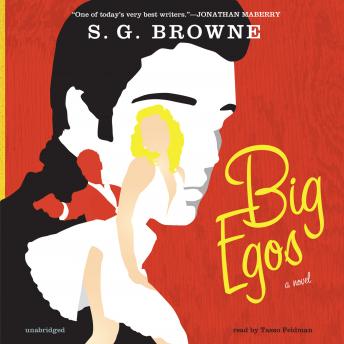 Duration:
8 hours 53 minutes
Summary:
Does yourlifestyle not fit the person inside you? Then try someone else on for size!
Call him whatever. Call him whomever. He canbe any legally authorized fictional character or dead celebrity he wants forsix to eight hours, simply by injecting a DNA-laced cocktail into his brainstem. It's called Big Egos and it's the ultimate role-playing fantasy fromEngineering Genetics Organization and Systems (a.k.a. EGOS). And, as one of thequality controllers for EGOS, he's the ultimate ego-tripper, taking on moreartificial identities than advisable-and having a hell of a time doing it.Problem is, he's starting to lose the ability to separate fact from fiction.His every fantasy is the new reality. And the more roles he plays, the less ofhim remains. Sure, it's dangerous. Yes, he's probably losing his mind. Okay,hundreds of others could be at risk. But sometimes who you are isn't goodenough. And the truth is, reality is so overrated.
With his insightful wit, smart humor, and electrifying narrative,acclaimed author S. G. Browne takes readers on a satirical and provocative tripinto the not-too-distant future, where, for some, pretending to be someoneyou're not is just another day at the office.
Genres: