Bitcoin & Cryptocurrency Technologies (3 Books in 1): Bitcoin Invest in Digital Gold, Wallet Technology Book and Anonymous Altcoins
Unabridged Audiobook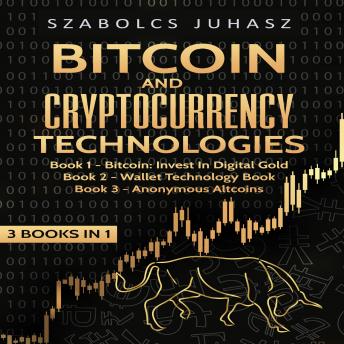 Duration:
7 hours 56 minutes
Summary:
Learn How to Start Investing in Bitcoin and other Cryptocurrencies! 

BUY THIS AUDIOBOOK NOW AND GET STARTED TODAY!


IN THIS AUDIOBOOK YOU WILL LEARN ABOUT:


- Bitcoin mining process explained step-by-step 
- Who is Satoshi Nakamoto aka the inventor of Bitcoin
- How to get prepared for the Bitcoin revolution | The forthcoming of recruitment, and payroll system 
- Introducing multiple ways of how you can get paid in Bitcoin 
- Why the value of Bitcoin can reach $1 Million | 10 + reasons to invest and hold Bitcoin 
- Wallet technology Explained: Hot wallets, Cold Wallets 
- How to find a nearby Bitcoin ATM: Selling & buying bitcoins step-by-step
- Pros and cons of Trading with Digital Gold
- Multiple ways to mine bitcoins, by your laptop or cell phone
- What is a Cryptocurrency Wallet | How a Cryptocurrency Wallet works
- The Importance of a Cryptocurrency Wallet | Cryptocurrency Wallet Types
- How to Install Hardware Wallets | How to Install Online Wallets | Why you must own your private keys
- Hot Wallet Hacks and how to prevent to become a victim
- How to Buy bitcoin from Online Exchanges | How to Transfer from Hot Wallet to Cold Wallet
- How to avoid a Man in the Middle Attack | Wallet ABC - Choose from over 70 Wallets!
- Defining Internet Anonymity and Secure Billing | Overview of Altcoins
- Cryptocurrency Basics | Bitcoin and Blockchain Basics | Understanding ICO-s
- Understanding Pump and Dumps | General Overview of the Cryptocurrency Market
- How to Avoid being Scammed Online | 5 Best Younger Generation of Privacy Based Coins
- ROI Calculation on the Best Anonymous Cryptocurrencies
- Cryptocurrency Regulations | SEC, CFTC, FinCEN...

BUY THIS AUDIOBOOK NOW AND GET STARTED TODAY!
Genres: