The Desert Crucible
Unabridged Audiobook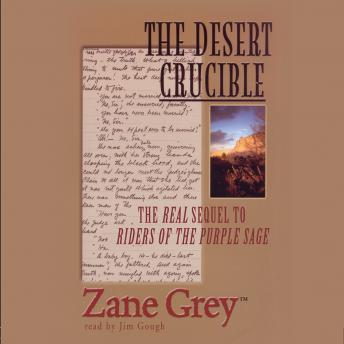 Duration:
11 hours 10 minutes
Summary:
Zane Grey wrote this splendidly thrilling sequel to Riders of the Purple Sage in 1915, but for almost ninety years it existed in a profoundly censored version.
Young John Shefford, escaping from his troubled past in Illinois, heads west to follow up the curious legend of three people living imprisoned in Utah's isolated Surprise Valley, one of whom is a beautiful girl named Fay Larkin. Shefford, half in love with the girl he's never met, is determined to find the valley and free her-if she's still alive.
Shefford is nearly overwhelmed with his experiences of the beauty of the high desert, his first meetings with Indians, his ideas regarding Mormon men and their secret wives, and his encounter with real love, all of which work their changes in him. He comes out a man made true and good, finally freed from the shame he has harbored for so long.
Genres: