Dirty Wars: The World Is a Battlefield
Unabridged Audiobook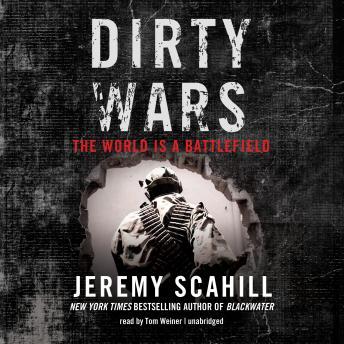 Duration:
24 hours 13 minutes
Summary:
In this groundbreaking book of new reportage, sure to stir a globaldebate, journalist Jeremy Scahill-author of the acclaimed international bestseller Blackwater-takesus into the heart of the War on Terror's most dangerous battlefields as hechases down the most important foreign policy story of our time.
From Afghanistan and Pakistan to Yemen, Somalia, and beyond, Scahillspeaks to the CIA agents, mercenaries, and elite Special Operations Forcesoperators who populate the dark side of American war-fighting. He goes deepinto al-Qaeda-held territory in Yemen and walks the streets of Mogadishu withCIA-backed warlords. We also meet the survivors of US night raids and dronestrikes-including families of US citizens targeted for assassination by theirown government-who reveal the human consequences of the dirty wars the UnitedStates struggles to keep hidden.
Written in a gripping, action-packed narrative nonfiction style, DirtyWars: The World is a Battlefield reveals that, despite his pledge to bringaccountability to US wars and to end Bush-era abuses, President Barack Obamahas kept in place many of the most dangerous and secret programs that thrivedunder his predecessor. In stunning detail, Scahill exposes how Obama hasescalated these secret US wars and has built up an elite secret US militaryunit that answers to no one but the president himself. Scahill reveals theexistence of previously unreported secret prisons, kidnappings, assassinations,and cover-ups of covert operations gone terribly wrong.
In this remarkable story from the frontlines of the undeclaredbattlefields of the War on Terror, journalist Jeremy Scahill documents the newparadigm of American war: fought far from any declared battlefield, by unitsthat do not officially exist, in thousands of operations a month that are neverpublicly acknowledged.
The devastatingpicture that emerges in Dirty Wars is of a secret US killingmachine that has grown more powerful than whatever president happens to residein the White House. Scahill argues that far from keeping the United States-andthe world-safe from terrorism, these covert American wars ensure that theterror will grow and spread.
Genres: