Enneagram: How to Meditate for Stop Anxiety, Spirituality and Stop Overthinking for Mindfullness
Unabridged Audiobook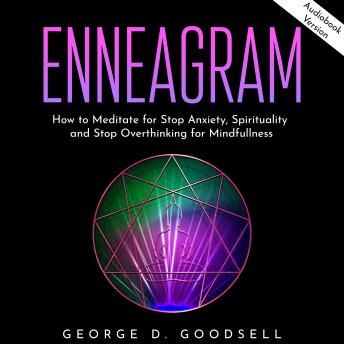 Duration:
3 hours 39 minutes
Summary:
Overcome Anxiety No Matter What Enneagram Type You Are And Finally Achieve Inner PeaceAnxiety has become one of the modern world's most persistent epidemics. One day you think you're doing fine, the next you start spinning out of control!

Having anxiety is a burden a lot of people face. The research behind this mental disorder has paved the way to plenty of avenues for healing.

This book will teach you all about the ONE most powerful tool to manage anxiety — Mindfulness Meditation.

In this book, you will learn:
- All about the power of mindfulness
- How your mind stresses you out
- The types of anxiety disorders and how they differ from other mental issues
- The major causes of anxiety
- How meditation can help you manage your anxiety
- All the practical tips you can follow to meditate the right way
- And much more!

Anxiety can be debilitating. It overpowers the mind and makes you feel like you are incapable of doing anything right in your life. When you constantly feel like the world is out to get you, the only way to put a stop to it is by taking action.

So, don't delay!

Scroll up and Click on "Buy Now" today!
Genres: