The Gospels: Catholic Audio Course & Free Study Guides
Unabridged Audiobook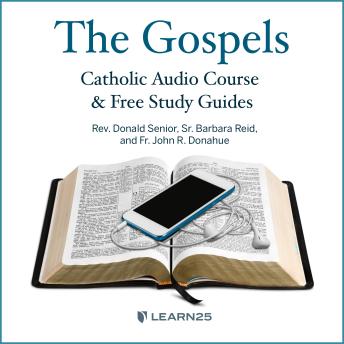 Duration:
19 hours 21 minutes
Summary:
Join three of Catholicism's leading biblical scholars in exploring the Gospels of Matthew, John, Luke, and Mark.

Learn25 listeners have long gained knowledge and spiritual fulfillment from our biblical studies offerings. Now, featuring four illuminating courses from beloved scripture experts, this bundle offers close readings of the four gospels and places the texts in meaningful conversation with one another.

With Rev. Donald Senior, C.P., Catholic Theological Union's (CTU) former president and Pontifical Bible Commission member, you'll explore the Gospel of Matthew, journeying through the full span of the text from the infancy narrative to the Great Commission.

Led by Fr. John R. Donahue, S.J., Raymond E. Brown, Distinguished Professor of New Testament Studies, you'll next survey the Gospel of Mark. Once thought to be an abridged version of Matthew, this text is now believed to have been written first.

Sr. Barbara Reid, O.P., current CTU President, will be your guide through the captivating Gospel of Luke. Walking you through the historical setting of Luke's life and writing, Sr. Reid demonstrates how Luke came to understand Jesus' healing mission and ministry of forgiveness.

Last, you'll return to Fr. Senior for a course on the Gospel of John. With his expert guidance, you'll delve deep into John's powerful depiction of Jesus Christ, discovering anew the Word of God incarnate.

This bundle is part of the Learn25 collection and includes free PDF study guides.
Genres: