Growing Marijuana: Advanced Cannabis Growing Tips to become an expert on Horticulture
A free trial credit cannot be used on this title.
Unabridged Audiobook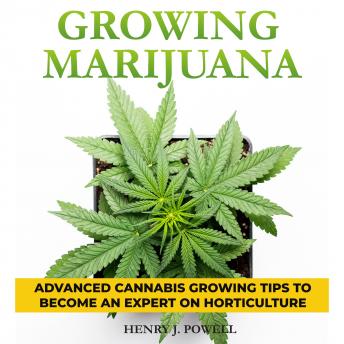 Duration:
5 hours 38 minutes
Summary:
This book will make growing cannabis a simple and immediate task.

This book will change the way you grow. "Growing Marijuana" shows both beginners and advanced techniques to grow the biggest, most resinous, and potent buds! This book contains the ultimate knowledge, tools, and methods to grow great marijuana—indoors and outdoors. You will learn the most efficient technology and save time, labor, and energy.

The expert 'Henry J. Powel ' offers evidence-based information on using cannabis to treat an array of ailments and conditions. Nowadays the medical benefits of marijuana are very well known. It can help to alleviate physical pain, treat nausea, increase appetite, reduce anxiety,and also weight loss.

Cannabis is also an excellent product for personal use, mainly aimed at relaxation.The demand for marijuana is increasing, but how can we be sure that the product we are buying is of good quality? Many cannabis products present in the market are not even tested for safety!

So how can you get some safe, high quality marijuana without spending too much money over it? The answer is very straightforward: you can grow it your own!

If you want to preserve your health, save money, and make use of all the benefits of marijuana, do not miss the chance to buy this book!
Genres: