History's Greatest Speeches: Women's Voices - Vol. I
Unabridged Audiobook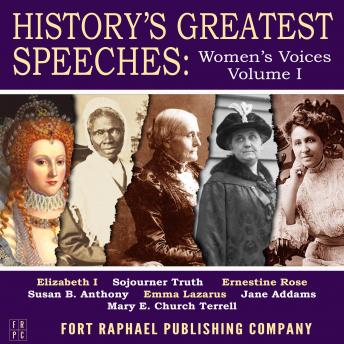 Duration:
2 hours 46 minutes
Summary:
The most profound and important speeches ever delivered are here collected in this anthology, this volume featuring some of the most influential women in world history. Fort Raphael Publishing has collected seven of the most important and iconic speeches of all time, all of which were written and delivered by the most important women of their respective eras.

From Queen Elizabeth rallying her troops to fight the Spanish Armada to Mary E. Church Terrell's commentary on being a Black woman in the nation's Capitol in the late 1800s, these speeches were among the most influential, important and moving speeches ever delivered.

This volume also features the abolitionist Sojourner Truth, early feminist activist Ernestine Rose, suffragist legend Susan B. Anthony, poet Emma Lazarus, and legendary founder of the settlement movement Jane Addams.

This collection of powerful and moving speeches pays tribute to these great world leaders...and the words they used to inspire millions.

This is the first volume of this two part special presentation. See also, History's Greatest Speeches: Women's Voices, Volume II.
Genres: