How to Be Richer, Smarter, and Better-Looking Than Your Parents
Unabridged Audiobook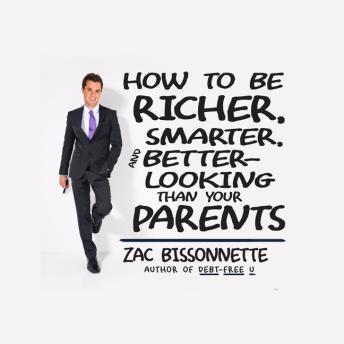 Duration:
7 hours 40 minutes
Summary:
Striking out on your own for the first time is exhilarating. But in a culture full of bad advice, predatory banks, and splurge-now-pay-later temptations, it can also be extremely dangerous--leading you to make financial decisions that could hurt you for years to come. Combine this with a slumped economy, mounds of student loans, and dubious examples from reality TV stars to politicians to your own parents, and it's no wonder so many twenty-somethings are struggling.

Twenty-three-year-old Zac Bissonnette--the author of Debt-Free U--knows exactly what you're going through. He demystifies the many traps young people fall victim to in their post-college years. He offers fresh insights on everything from job hunting to buying a car to saving for retirement that will give you a foundation for a secure, stable, and happy life. In the process, he reveals why FICO scores are overrated, online job applications are a waste of time, car loans are for suckers, and credit card rewards are a scam.

With detours to discuss wine connoisseurs, Really Broke Housewives, and Lenny Dykstra, Zac shows you how to make better choices today so you can be richer, smarter (and better-looking!) for years to come.
Genres: