How to Grow Marijuana Outdoors: Avoid Years of Trial and Error With This Lucrative Cannabis Technique
Unabridged Audiobook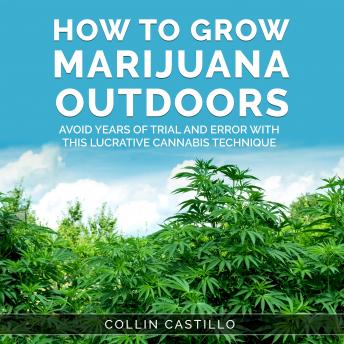 Duration:
3 hours 58 minutes
Summary:
Dear reader,

If you are reading this, you took a keen interest in starting your private marijuana farm, but you don't know how or where to begin. What if you could avoid years of trial and error and grow top-quality weed from the start?

This guide will show you the expert secrets of cannabis cultivation!

The step-by-step instructions will show you everything you need to know. You'll learn how to choose the best place and how to set up a complete outdoor farm, how to protect and clean your plants from various pets, and also how to introduce new cannabis plants to your garden.

When you don't have to worry about what to do next, you'll have top-quality buds in your hands in no time.

Here's what this book can offer you:

·        Everything about the life cycle of marijuana plants

·        How does marijuana genetics and strains work

·        Best seeds for outdoor growth

·        All about cannabis growth mediums

·        Special outdoor growing techniques

·        Best equipment required for outdoor growing

·        Guide to introducing new cannabis plants into the garden

·        And much more!

If you want to grow top-quality marijuana, all you have to do is follow the easy instructions and incorporate expert advice found in this book.
Genres: