Live at the Fillmore East and West: Getting Backstage and Personal With Rock's Greatest Legends
Unabridged Audiobook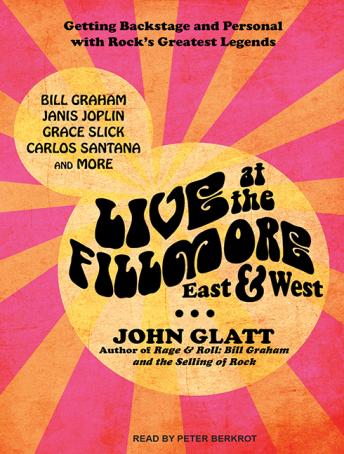 Duration:
13 hours 41 minutes
Summary:
In 1968, rock promoter Bill Graham launched the Fillmore East in New York City and the Fillmore West in San Francisco, changing music forever. For three years, every major rock band played the Fillmores, performing legendary shows: Jimi Hendrix, the Grateful Dead, Santana, Jefferson Airplane, Led Zeppelin, Cream, the Allman Brothers, and many more.

John Glatt tells the story of the Fillmores through the lives of Bill Graham, Janis Joplin, Grace Slick, Carlos Santana, and an all-star supporting cast. Chronicling the East and West Coast cultures of the late 1960s and early 1970s-New York City with its speed, heroin, and the Velvet Underground versus San Francisco with the LSD-drenched Summer of Love-Glatt reveals how Graham made it all possible.

But why did Graham shutter both Fillmores within weeks of each other in 1971, during the height of their popularity? Live at the Fillmore East and West reveals how Graham's claim that 'the flowers wilted and the scene changed' was not quite the whole story.
Genres: