Medical Spanish: This Book Includes: Spanish For Medical Professionals With Essential Questions And Responses Vol 1, 2, 3, And 4
Unabridged Audiobook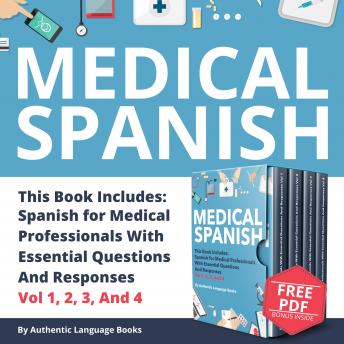 Duration:
28 hours 8 minutes
Summary:
This book was created with the listener in mind. Purchase the audiobook version of this book for the best and most effective learning experience!

If you are looking to learn Medical Spanish in a fast, simple way without entering a classroom then you have chosen the perfect book! This bundle is a comprehensive and simple program for learning the perfect Cheat Sheet Of Medical Spanish Vocabulary, Phrases, And Conversational Dialogues For Medical Providers with Step By Step Spanish Conversations Quick And Easy In Your Car Lesson By Lesson.

Learn quick Spanish, understand vocabulary and interactions, and learn correct pronunciation through this simple audio lessons!

Inside You Will Find


- How to treat patients in emergency situations in quick and easy lessons for native like fluency in no time
- How to build a patient's medical history through dialogues that teach the most important questions
- How to ask ask a patient pre-op questions and understand their answers
- How to perform medical exams and ask developmental questions
- How to inform a patient about the risk of surgery
- How to book an appointment and ask about insurance
- How to ask what's wrong or what hurts and do diagnosis questions
- How to converse with people in the ER
- and many more!

Get this book NOW, embrace these simple, yet effective language lessons that will have you speaking Spanish like a native in no time!
Genres: