Mediterranean and Paleo Diet Bundle, 2 in 1 Bundle: Mediterranean Diet Secrets and Paleo Diet 101
Unabridged Audiobook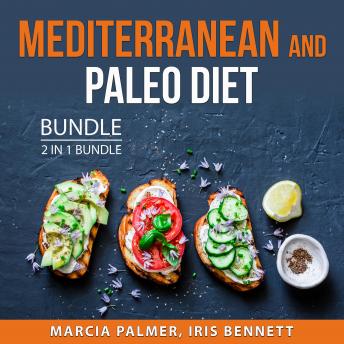 Duration:
1 hours 16 minutes
Summary:
Mediterranean and Paleo Diet Bundle, 2 in 1 Bundle: Mediterranean Diet Secrets and Paleo Diet 101

The Mediterranean diet mainly focuses on eating more vegetables, fruits, whole grains, beans, nuts and seeds, and olive oil. It is called the Mediterranean diet because the inspiration came from the type of diet the people in the Mediterranean eat. Researchers noted that the countries of Greece, Spain, France, Italy and Portugal have fewer deaths related to cardiovascular diseases that's why the interest in the kind of diet they eat emerged. They also have a lower risk of many lifestyle-related types of diseases like type 2 diabetes and can help you lose weight as well. 

The Paleo Diet was developed by Loren Cordain, PhD who was a researcher in Colorado State university and according to him, the paleo diet is the way humans were genetically designed to eat. So this diet sticks to food that even our earliest ancestors ate without the aid of farming and processing. Aside from weight loss, one of the benefits of this diet is clean eating because the food you will be eating is free from any chemicals, preservatives or additives. This diet is especially beneficial for those with diabetes because it cuts down on processed foods and increases insulin sensitivity. It also helps with hypertension, cancer, Crohn's disease, GERD, gastric ulcer, and hernia.

This bundle will teach you everything about Mediterranean and Paleo Diet. This 2 in 1 bundle includes the following audiobooks:

- Mediterranean Diet Secrets: The Complete Beginner's Guide to Mediterranean Diet, Discover How this Diet Can Help You Lose Weight and Transform Your Overall Health
- Paleo Diet 101: The Ultimate Guide on The Paleo Diet and How it Can Help You Lose Weight, Eat Healthier and Live a Healthy Lifestyle
Get your copy of Mediterranean and Paleo Diet 2 in 1 Bundle today!
Genres: