Minimalism & Decluttering: Learn Secret Strategies on Living a Minimalist Lifestyle for Your House, Digital Whereabouts, Family Life & Your Own Mindset! Declutter Your Life for Finding Inner Happiness
Unabridged Audiobook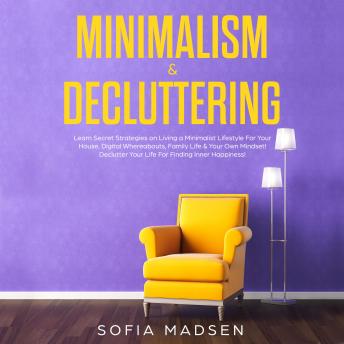 Duration:
3 hours 24 minutes
Summary:
Do you want to live a happier and more fulfilling life with less? If so then keep reading…
Do you have problems not knowing where to start on your minimalist journey? Convincing a spouse or family about the benefits of simpler living? Teaching your children about having less? Or finding you keep thing "just in case"? If you do, within this audiobook many minimalism experts have discussed their knowledge on how to overcome these problems and more, most of which have been living a minimalist lifestyle for 10+ years.
In Minimalism & Decluttering, you will discover:
• A simple trick you can do to learn that our worth is not tied up in our possessions!
• The best way of convincing loved ones of a minimalist lifestyle!
• The one method to use to find every item a new home!
• Why minimalism helps to reduce stress and other mental problems!
• Understanding why some people will fail with minimalism and how you can use that to succeed!
- And much, much more.
The proven methods and pieces of knowledge are so easy to follow. Even if you've never heard of minimalism before, you will still be able to get to live a minimalist lifestyle.
So, if you want to transform your life, then click "BORROW" or 'Buy Now'!
Genres: