Minimalism & Hygge Bundle: Live a Cozy & Minimalist Lifestyle, by Using Minimalistic Teachings & The Danish Art of Happiness For a More Fulfilling Life, & Your Families Home, & Digital Presence
Unabridged Audiobook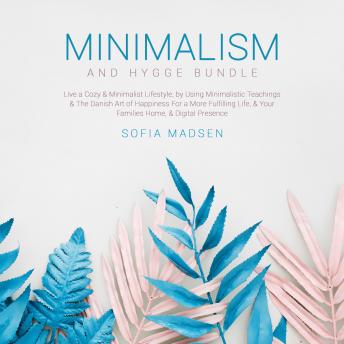 Duration:
6 hours 52 minutes
Summary:
Do you want to live a more fulfilling, happier and relaxing life all rolled into one? If so then keep reading…
Do you find your day gets to hectic? Overly stressful? Not enough time in the day to relax? Or bogged down with unnecessary tasks? If you do, within this audiobook many of the top minimalist and hygge experts have shared their knowledge on how to overcome these problems and more, most of which have been incorporating hygge and minimalist fundamentals into their days for many years.
In Minimalism & Hygge Bundle, you will discover:
• A simple trick you can do to enjoy life's simple pleasure throughout the day!
• The best way of convincing loved ones of the new lifestyle change!
• The one hygge method that everybody should be doing!
• Why minimalism and hygge help to reduce stress and other mental problems!
• Understanding why some people will fail to stick to a hygge and minimalist lifestyle!
- And much, much more.
The proven methods and pieces of knowledge are so easy to follow. Even if you've never heard of either hygge or minimalism before, you will still be able to incorporate many hygge and minimalist changes into your life.
So, if you want to transform your life, then click "BORROW" or 'Buy Now'!
Genres: