Pirate Consort
Unabridged Audiobook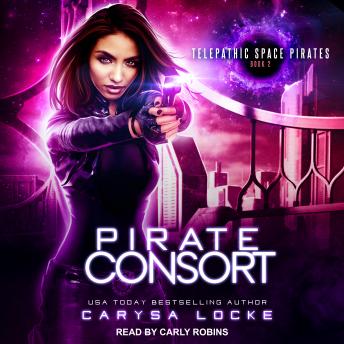 Duration:
10 hours 40 minutes
Summary:
Outlaw. Telepath. Pirate. Queen.

Mercy is no longer a fugitive running for her life and hiding from the family she left behind. She thought the hardest part of going home was going to be surviving the dangerous, psychically gifted pirates she calls family, but the truth is far more complicated, and her relatives aren't quite as murderous as she remembers.

Now Mercy is their Queen, a role she never wanted. When a peace summit with the pirates' greatest enemies ends in disaster, Mercy's new life spins out of control. The Talented people she is supposed to be uniting are on the verge of a bloody war that will only end when all of them are dead.

Her consort, Reaper, is a psychic Killer, a man much more accustomed to taking lives than to saving them. And Mercy has never been responsible for anyone but herself. Now, she must embrace her role as queen and uncover the truth in a complicated web of psychic Talents and politics. If she doesn't unravel a hundred years of hostility, everyone she loves will die.

Contains mature themes.
Genres: