[Russian Edition] Think!: Bodybuilding Without Steroids
Unabridged Audiobook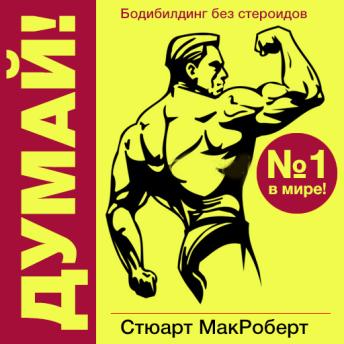 Duration:
10 hours 22 minutes
Language:
Russian
Summary:
Think! Bodybuilding without steroids - Stuart McRobert's best seller now in Russia! The book became a cult among all who lead a healthy lifestyle, who wants to feel great and look good! Most of books about bodybuilding similar. As a rule, it is a colorful collection of photos of bodybuilders with impressive muscles, looking at that, you think, "Well, I'm sure this will never be.... And yes, maybe you're right! After all, most of these books do not work, because they can not give the same result for the training of different people. Think! offers a completely different approach, refuting years hindering your success stereotypes.

The main value of Think! is that there are tips, advice and training for the ordinary people, with no outstanding genetic data and do not use steroids. The author has 30 years of bodybuilding experience - he shares personal experiences and brings exciting special studies. In addition, you will find a description of the basic exercises, different training methods with recommendations how to adapt them for yourself. The effectiveness of the book Think! Bodybuilding without steroids has seen by millions of people around the world. Now it's your turn!

Attention! This book contains a variety of physical exercises. It is important to monitor the correctness of their performance! Regardless of your age, consult with a specialist to make sure that the selected training program is right for you. Be careful when exercising, and remember about the danger.
Genres: