Study Better Bundle, 2 in 1 Bundle: Speed Reading Mastery and Learn Better
Unabridged Audiobook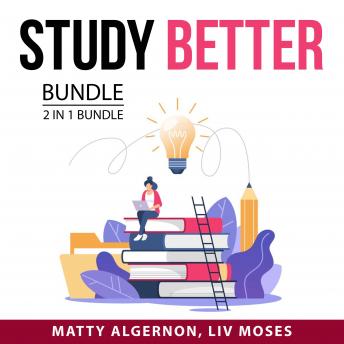 Duration:
0 hours 58 minutes
Summary:
Study Better Bundle, 2 in 1 Bundle: Speed Reading Mastery and Learn Better

Do you want to be a better student and do better at school? Do you want to do well at examinations? Most schools, universities and other institutions use examinations to assess the intelligence and abilities of students and other individuals. So it's no wonder a lot of people want to learn how to do well in them. Competition is fierce which sometimes adds more pressure. Fortunately, there are tricks one can use to learn better and retain more information so he or she can do well in examinations. When studying, you usually need to read a lot of books. Speed reading is said to be one of the top skills people should learn these days. Speed reading has many techniques that would let you be able to read quickly. But it's not enough to just read but to understand what you're reading as well.

This bundle will teach you tricks on how you can study better and take exams well. It will also teach you everything you need to know about speed reading. You will learn effective techniques and methods on how you could spend less time reading while comprehending faster. You will discover how to retain information better as well. If you struggle every time you take exams or just want some extra help so you can do better at them, this bundle is the perfect guide for you.

This 2 in 1 bundle includes the following audiobooks: 

- Speed Reading Mastery: The Ultimate Guide on How to Increase Reading Speed and Comprehension, Learn the Proven Techniques on Faster Reading and Understanding and Improved Memory
- Learn Better: The Ultimate Guide on How to Learn Better, Discover the Effective Methods to Learn Faster and Remember More
Get your copy of Study Better 2 in 1 Bundle today!
Genres: