Transgressions: Price of Desire: Three Novellas from Transgressions
Unabridged Audiobook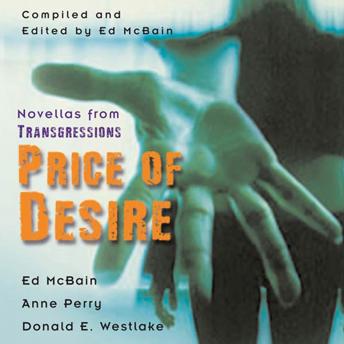 Duration:
6 hours 52 minutes
Summary:
Novellas from Transgressions by Ed McBain, Anne Perry and Donald E. Westlake

'Merely Hate' by Ed McBain: When a string of Muslim cabdrivers are killed the detectives of the 87th Precinct must hunt down a killer before the city explodes in violence.

'Hostages' by Anne Perry: In their eternal struggle for freedom, there is about to be a changing of the guard in the Irish Republican Army. Yet for some, old habits—and honor—die hard.

'Walking Around Money' by Donald E. Westlake: If it sounds too good to be true, it usually is, and the hapless crook, John Dortmunder, must get to the bottom of this slam-dunk caper before he's left holding the bag.
Genres: