Vietnam: The Definitive History of the War
Unabridged Audiobook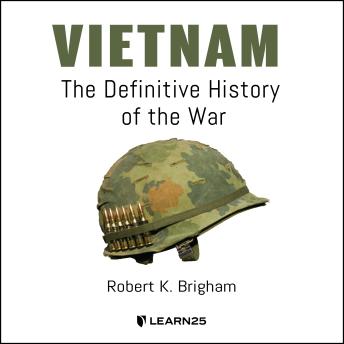 Duration:
9 hours 55 minutes
Summary:
A gripping and authoritative 24-lecture history course on the Vietnam War from the award-winning professor who cowrote Argument without End with Robert McNamara.

Using newly available archival and source material from the United States and Vietnam, Vassar College professor Robert K. Brigham helps you grapple with the legacy of the Vietnam War today.

Based on more than 100 trips to Vietnam and extensive interviews with key players from all sides, Prof. Brigham weaves vivid biographical sketches and rich anecdotes into recorded history. His masterful storytelling will help you look behind common assumptions about the conflict. 

Not since the Civil War had the American national consciousness been as strained as it was by the conflict in Southeast Asia. Indeed, the controversies that the Vietnam War spurred on the home front are more familiar to many Americans than the policies and motives that guided the conflict. Vietnam: The Definitive History of the War fills that gap. The provocative questions Prof. Brigham raises will help you reexamine the war from today's vantage. 

Throughout, Prof. Brigham sheds light on the United States and its place in the world today. Under his expert guidance, you will gain fresh understanding of this momentous chapter in American history.

This course is part of the Learn25 collection.
Genres: