Yoga Nidra Deep Sleep Meditation: 6 Guided Meditations for Relaxation, Overcoming Anxiety, Stress Relief and to Fall Asleep Fast
Unabridged Audiobook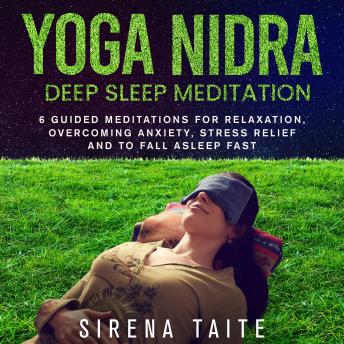 Duration:
3 hours 12 minutes
Summary:
How Would You Like To Uncover The Little-known Secrets To Achieving Deep Sleep And Complete Relaxation, Even If You Find Difficulty With "Quieting Your Mind"? Yoga Nidra is a special type of meditation where your body is guided into a state of deep relaxation and open to subliminal suggestions into your consciousness that is designed to help you become more aware of your mental "landscape", improve your emotional, physical and mental health and well-being.

 However, you do not need to take this at face value. In fact, the link between Yoga Nidra and increased dopamine levels as well as heart rate variability (HRV)—the two factors responsible for better sleep, lower stress, and a feeling of well-being has been well established by scientific research.

In this guide, Sirena Taite condenses years of intensive research into yoga and mindfulness, as well as practical field experience to create these six meditations to help you:

●    Experience deep sleep and total relaxation instantly

●    Relieve intense feelings of stress, tension, and anxiety on command

●    Boost your level of focus and concentration

●    Rid yourself of toxic negativity

●    Build rock-solid confidence and self-esteem

●    Develop better relationships

●    Heal years of emotional pain and trauma

●    Uncover the secrets to unceasing happiness

For each guided Yoga Nidra meditation included, you will have six relaxing background sounds to customize your meditative experience to your taste and make your Yoga Nidra sessions truly unique.

Scroll to the top of the page and click the 'Buy Now' button to grab your copy today and experience the pleasure of restful healing!
Genres: