B. J. Harrison Reads The Adventures of Tom Sawyer
Unabridged Audiobook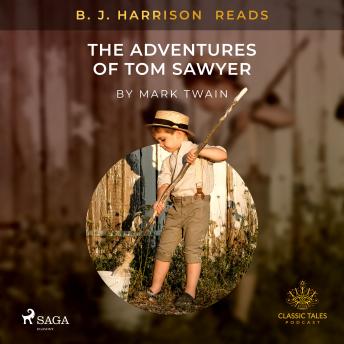 Duration:
7 hours 27 minutes
Summary:
Tom Sawyer is an orphaned boy who lives together with his kindhearted aunt Polly. Although his poor aunt takes good care of him, Tom grows up to be rebellious who comes up with a new plan for troublemaking every day. He steals snacks, comes home late, lies to his friends, tricks them into giving him various things and each time he manages to get away with it. But when he falls in love with a girl and tries to win her heart, he gets into even bigger trouble. Can he grow to be a decent young man or will his tricks and mischiefs ruin his life? Find out in 'The Adventures of Tom Sawyer'.
B. J. Harrison started his Classic Tales Podcast back in 2007, wanting to breathe new life into classic stories. He masterfully plays with a wide array of voices and accents and has since then produced over 500 audiobooks. Now in collaboration with SAGA Egmont, his engaging narration of these famous classics is available to readers everywhere.
Mark Twain was an American writer who lived in the period 1835-1910. His works combine humor, social criticism and moralism. His literary legacy consists of many travel narratives such as 'The Innocents Abroad' and 'Life on the Mississippi' but he gained wide popularity with his adventure stories of boyhood 'The Adventures of Tom Sawyer' and 'The Adventures of Huckleberry Finn' which was called by some the first Great American Novel. Although many of Mark Twain's works have been censored at times for various reasons, he is held to have been America's 'greatest humorist' by some and 'the father of American literature' by others.
Genres: