The Essential Dickens Christmas: A Christmas Carol and Eight Festive Tales
Unabridged Audiobook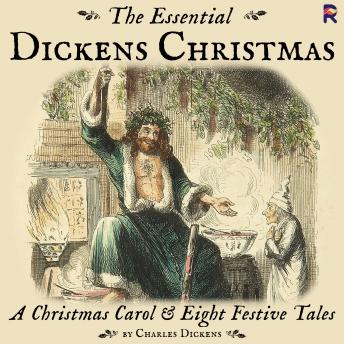 Duration:
12 hours 22 minutes
Summary:
Charles Dickens wrote A Christmas Carol-A Ghost Story of Christmas in Five Staves when he was 31; the first edition was published on 19th December 1843 and had sold out just four days later and by the end of 1844, there were already 13 reprints. Now with numerous adaptations for film, television, radio, stage, and indeed, audiobooks, A Christmas Carol has, for many, become an essential part of Christmas!

Raconteurs Audio has created this audio anthology to include Dickens' two Christmas novellas, The Chimes and The Cricket on the Hearth, as well as a collection of his lesser known short stories with a Christmas theme.

A Christmas Carol

Stave 1 - Marley's Ghost read by Liam GerrardStave 2 - The First of Three Spirits read by Tim BruceStave 3 - The Second of Three Spirits read by James GilliesStave 4 - The Last of the Spirits read by Greg WaglandStave 5 - The End of It read by Malk Williams

Music

Stave 1 - God Rest Ye Merry Gentlemen - English TraditionalStave 2 - The Three Kings - Peter CorneliusStave 3 - Gabriel's Message - Basque NoelStave 4 - A Coventry Carol - English TraditionalStave 5 - This Is the Truth - English TraditionalFinale - In Dulci Jubilo - German Traditional

Original music arranged and produced by Kelvin Towse for this audiobook production.

Festive Tales

The Haunted House read by Greg WaglandA Christmas Tree read by Nigel PattersonThe Chimes read by James GilliesThe Christmas Goblin read by Liam GerrardThe Cricket on the Hearth read by Helen LloydNobody's Story read by Malk WilliamsA Child's Dream of a Star read by Tim BruceWhat Christmas Is as We Grow Older read by James Gillies

These stories originally published between 1843 and 1871 are in the public domain. The traditional music is also in the public domain.
Genres: