The Gospel of Matthew: Audio Course & Free Study Guide
Unabridged Audiobook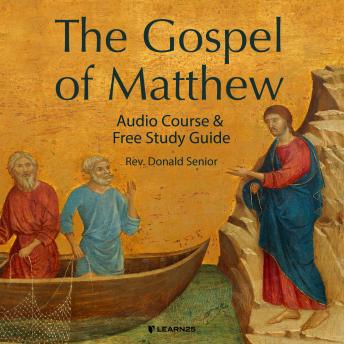 Duration:
4 hours 57 minutes
Summary:
Let one of the world's foremost Scripture scholars guide you to a deeper appreciation of the Gospel according to Matthew. 

More than any other Gospel, Matthew reflects Christianity's Jewish roots. As the first book of the New Testament, it provides a fitting transition from the Old Testament. Revered as the "Church's Gospel," Matthew draws on Jewish Law while anticipating a Church "of all nations."

Now, Fr. Donald Senior, a leading expert on Matthew, helps you discover anew the evangelist's profound themes and literary features. Combining world-class scholarship with incisive insights, this 12-lecture audio course is both erudite and accessible. 

You'll begin by considering Matthew's similarities with and differences from Mark, Luke, and John. Next, you will explore its historical background and relationship to the Old Testament. You will then cover the full span of the Gospel of Matthew, from the infancy narrative to the Great Commission. 

By taking a closer look at passages like the Sermon on the Mount, you will unpack Matthew's most unique features and compelling messages. With newfound appreciation, you will find inspiration and guidance in Matthew's words.

Sr. Barbara Reid, O.P., writes, "Whoever allows Donald Senior, C.P., to be their guide through the Gospel of Matthew is in for a wonderful experience." Enjoy these masterful lectures today.

This course is part of the Learn25 collection and includes a free PDF study guide.
Genres: