How To Grow Marijuana Indoors 2 Books In 1: Step-By-Step Cannabis Growing Guide For Beginners From Seed To Harvest
A free trial credit cannot be used on this title.
Unabridged Audiobook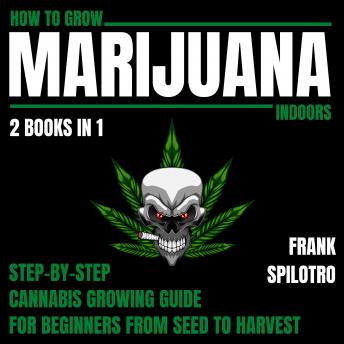 Duration:
6 hours 37 minutes
Summary:
Do You Want To Discover What It Takes To Grow Top Quality Marijuana Indoors?

GET THIS BOOK NOW AND START GROWING MARIJUANA TODAY!

2 BOOKS IN 1 BUNDLE

BOOK 1 - GROWING MARIJUANA FOR BEGINNERS: HORTICULTURE & HYDROPONICS GARDENING

HOW TO GROW TOP QUALITY CANNABIS INDOORS AND BUILD YOUR AQUAPONIC GARDENING SYSTEM

BOOK 2 - HOW TO GROW MARIJUANA INDOORS: HORTICULTURE & AQUAPONIC GARDENING

ADVANCED CANNABIS GROWING TIPS TO GROW TOP-SHELF BUDS USING HIGH END LIGHTING SYSTEMS


In book 1 you will discover:


- What are the key considerations before getting started such as equipment, space, yield, strain and your time before planting your seeds
- How to set up sufficiently your grow space
- How to germinate your seeds; Germination pot technique
- How to look after your seedlings in the Seedling stage
- Cannabis training methods; Bend & Secure Technique, Super cropping and the Screen of green
- How to set up the vegetative lighting schedule, how to provide nutrients to your plants, how to water your plants properly and how to keep a steady temperature environment and more…


In book 2 you will discover:


- How to Control Room Conditions to Maximise Growth and Yield
- What is the best Grow Light Spectrum for Cannabis
- What Effect does Far Red Light on Cannabis Growth
- Cannabis Grow Lighting Myths
- Optimal Spectral Quality for Cannabis Growth and Development
- Rundown of Overall Requirements
- 3 Ways to Germinate your Cannabis Seeds and more...
Genres: