The Rainbow Trail
Unabridged Audiobook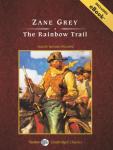 Duration:
11 hours 39 minutes
Summary:
John Shefford rode into Utah's valley in search of a new life, and when he met Fay Larkin, he knew he had found it. Even when she was charged with murder, he did not care. He had to have her. She was worth life itself.

Breaking her out of jail was the easy part. After that he had posses to worry about, violent bands of Indians to outrun, a murderous trek across a trackless waste, and a brutal passage through white water hell.

Hell, yes. Busting her out of jail had been a cinch. After that it really got tough.
Genres: