Yoga Nidra Deep Sleep Meditation & Gastric Band Hypnosis Mastery 2-IN-1: Guided Self-Hypnosis and Positive Affirmations to Overcome Anxiety, Stress, Emotional Eating, Dissolve Body Fat and to Sleep Be
Unabridged Audiobook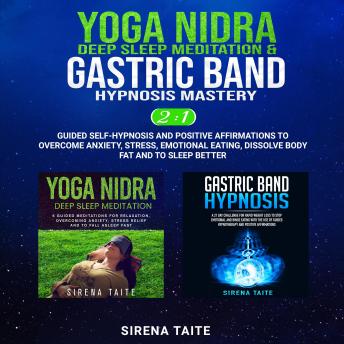 Duration:
6 hours 21 minutes
Summary:
Would you like to unlock the power of your mind to help you get a good night's rest every day and lose those extra pounds around your waistline?

If you answered yes to the question above, then this audiobook is for you.

This bundle has everything you need to help you find relief from anxiety, depression and achieving rapid weight loss by harnessing the incredible power of your mind.

 In Yoga Nidra Deep Sleep Meditation, you're going to learn how to:

●    Achieve deep relaxation and relieve intense feelings of tension and anxiety

●    Get rid of negativity and eliminate subconscious toxicity in your mind

●    Skyrocket your sense of self-esteem, develop rock-solid confidence and realize your inner potential

●    Rid your psyche of emotional pain and trauma and get started on your journey to mental and emotional healing

 Finally, here's what you're going to learn in Gastric Band Hypnosis:

●    Boost your confidence and self-esteem, as well as become a positive, optimistic person

●    Completely rewire your relationship with food and reduce your appetite dramatically

●    Set the right goals for your fitness journey and force your mind to stay on track

●    Develop a feeling of accomplishment that will encourage you to stick to your fitness goals

 Packed with loads of profound insights and actionable advice you can follow to improve your mental well-being, this bundle has all the tools you need to deal with insomnia and excess weight for good.

Scroll to the top of the page and click the 'Buy Now' button to get started today!
Genres: