The Battle for Isurava: Fighting in the clouds of the Owen Stanley 1942
Unabridged Audiobook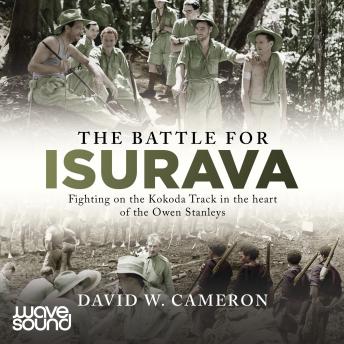 Duration:
14 hours 56 minutes
Summary:
'You are trying to survive, shirt torn, arse out of your pants, whiskers a mile long, hungry … you carry your boots because there's no skin on your feet. But when you look around at some of the others – hell! They look crook! … you dig a number of holes in the ground and bury your dead. Nothing would be said, but you think 'maybe it will be my turn next'.
Within 24 hours of the Japanese invasion of northern New Guinea at Gona in July 1942, the Australian militiamen of 'B' Company, 39th Battalion, spent four weeks fighting a delaying action against a crack Japanese force outnumbered by three to one. By mid-August, the rest of the battalion had arrived, and these men took up a position at Isurava, in the heart of the cloud covered mountains and jungles of the Owen Stanley Range.
The battle for Isurava would be the defining battle of the Kokoda Campaign and has rightfully been described as Australia's Thermopylae. It was here that Australia's first Victoria Cross in the Pacific war was awarded when the Japanese conducted several ferocious attacks against the Australian perimetre.
The outnumbered and poorly equipped Australians managed to hold back the Japanese advance for almost a week; only then did these battle scared and weary men begin a month long fighting withdraw towards Ioribaiwa Ridge just north of Port Morsby. However, their sacrifice provided time for the Australian 25th Brigade to be brought forward — finally forcing the Japanese to withdrawal just as they glimpsed the lights of Port Morseby.
Using diaries, letters and other first-hand accounts and following on from The Battles for Kokoda Plateau, leading military historian David W Cameron continues his detailed and riveting account of the war in the Owen Stanleys in 1942.
Genres: